Use a Bathroom Renovation Checklist to Make the Most of Construction Loans for Renovation Colorado Springs
Have your bathroom renovated if you want to recoup what you spent on your construction loans for renovation Colorado Springs lenders offer. This is one of the projects that pays for itself, especially when you plan to sell your property in the future.
Studies show that an investment return of 102% is guaranteed with a minor bathroom remodel. Imagine how much ROI you'll get if you make the project just a bit bigger. Residential sales consultant and team leader of Entourage RG at Keller Williams in Washington D.C., Cedric Stewart, backs this fact by saying that, "Next to kitchens, bathrooms are the number two selling point in most homes."
With this in mind, make the most of house renovation loans Colorado Springs has by using them wisely.
Essential Bathroom Renovation Checklist
Before you decide on anything, make sure you have a list of the most essential things that need to be remodeled.
Creating a list even before you apply for a loan will also give you a good idea of the amount you should apply for. Based on the figure, you'll know if you can afford the repayments or cut down the number of things to renovate.
So, what should go on your checklist?
Lighting
Medicine Cabinets
Toilet
Window
Shower (Floors, sills, and bases)
Storage
Plumbing
Why are these essential?
Lighting
A dim bathroom is a gloomy one. Considering that it's a place where you get to relax after a long day, soaking in the tub whenever you need to, bad lighting is sure to ruin the mood. Better lighting is a must in this part of the home, and your ideal options are recessed light fixtures to brighten up the room, and aesthetic or functional lighting for the vanity area.
Medicine Cabinets
The idea might seem outdated, but using a good old medicine cabinet is better than leaving your daily medication, toothpaste, and other toiletries cluttered on the counter. Besides, you don't need a lot of space to add one. You can also have it recessed to save space.
Toilet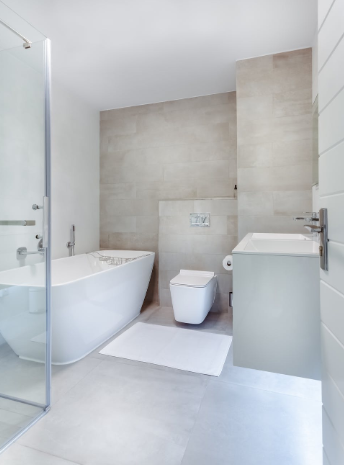 If you want to save on renovation costs, a wall-hung toilet will save you more. It's more affordable, saves space, and can be water-saving too. You may need to change the existing plumbing to accommodate this type of toilet, however. And if you want to switch back to a floor-mounted unit, changes have to be made too.
Window
What's great about one more window in the shower area? More natural light coming in and, if it opens, more ventilation, too.
Shower
The best one should have:
Floors with smaller tiles that offer more traction and are less slippery.
Sills that slope properly so that water drains properly.
Bases made of either acrylic or porcelain, which are two modern and clean options.
Storage
It's so much easier to keep the bathroom organized and clutter-free with enough storage. Instead of cabinets, have drawers added that can be cut around the plumbing. Make them extra large and they can accommodate more items.
Plumbing
Do you plan to change the existing pipework or not? It's more cost-effective not to, but if your drain pipes are less than two inches, you should replace them. This will make it easier to prevent future clogging. Make sure that the water line doesn't route to the exterior wall as well.
Now that you know what to do, take some time to calculate how much loan amount you need to apply for.
Requirements for construction loans for renovation Colorado Springs
To increase your chances of pre-approval, you must:
Show that you have the capacity to pay off the loan amount.
Hire a qualified and licensed builder, complete with documentation.
Get an appraisal from a licensed appraiser.
Provide details of the construction plan which, in this case, is your bathroom remodeling plan.
Have a good credit score or one that suits the loan amount. That is, if you want a higher loan amount, you should have a score of 780.
Have a sizable downpayment, anywhere between 20% and 25%.
Apply for a Construction Loan with One Mortgage
One of the best mortgage lenders Colorado Springs clients trust, we provide homeowners the funds to pay for their home renovation, regardless if it's just for a new bathroom or a complete home makeover. Start your application online.